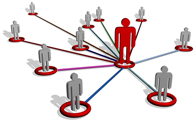 A network solution is basically everything you could possibly need to set up a fully functioning computer network at your next convention, trade show, conference or temporary office. That includes everything from computers, laptops and projectors to servers, routers and peripherals.
If you only need a network solution for a temporary amount of time, then it doesn't make sense to go out and buy everything you need, especially if you are only going to use it once or twice a year. Temporary solutions are perfect for these types of situations and renting a network solution is something a lot of professionals turn to when they need these things short-term.
Rentacomputer.com is the leader in temporary computer and technology rentals and has been in the industry for over 20 years. In that time, Rentacomputer.com has developed a keen instinct for the industry of temporary technology needs and has mastered the art of getting you your technology whenever and wherever you need it.
Nearly any type of laptop or desktop computer can also be added to your network solution rental and can be connected to your other technology as well. You can get any type of computer rental, whether it be a laptop or a desktop, from all the top brands like Sony, Toshiba, Dell and Apple, while also renting monitors and plasma screens as well, further adding to your complete network solution rental.
One good reason for a network solution rental is disaster recovery. If disaster strikes your office and compromises your technology, like Hurricane Sandy recently did to so many people on the East Coast, recovery can be made extremely simple with a network solution rental.
You can get a fully customized network solution tailored to your every need. Whatever you need, Rentacomputer.com can handle it. So the next time you need a full network solution rental, whether it be for a conference, trade show, convention, temporary office or disaster recovery, head on over to Rentacomputer.com.  I promise you they will have everything you need.
The Craft and Hobby Association (CHA) announced a new name change of the Craft and Hobby Association Convention and Trade Show to the Craft and Hobby Association Conference and Trade Show....... Well, now that we got that out of the way, this change apparently reflects the growing importance of education in helping craft and hobby professionals cope and succeed in today's marketplace by providing a greater number of industry professionals with access to CHA's Trade Show, educational sessions, networking opportunities and special events.
According to the 2010 CHA Member Satisfaction Survey, one of the top two requests for member benefits included providing educational programs that were pertinent to the craft industry. And even though a majority of respondents reported providing educational programs as an important Association function, 42% had never participated in CHA education. In previous surveys conducted, however, schedule conflicts and price were the top two reasons for not taking classes.
For their 2011 Winter Show in Los Angeles, CHA will implement an exciting new Conference model that is said to provide all attendees with greater value, more convenient hours, greater networking opportunities and unlimited access to the CHA Trade Show floor. Attendees are also said to get unlimited access to Conference programs as well as networking opportunities and special events too. This new Conference model for the CHA takes cues from other successful programs that are currently being used by many of the leading trade show organizations.
The CHA 2011 Winter Conference will feature educational sessions which are customized for things like member types, hands-on craft technique training, a variety of networking opportunities and provide attendees with unlimited access to all seminars, workshops and special events for only $25. All exhibitors at the CHA Trade Show have the $25 fee, and now all attendees and exhibitors will have full access to to the CHA conference including business sessions, networking events and special events that include the Keynote presentation, Show Event/Party, International Reception and the Welcome Reception.
To help accommodate this focus on education and to eliminate conflicts, the trade show floor hours have been moved up an hour and will run from 10 am to 6 pm during the first three days of the show. These new hours will provide attendees and exhibitors a full 8 hours of access to the show floor with greater flexibility to participate in education and networking opportunities only offered at CHA Shows.
According to President and CEO of CHA Steve Berger, "We believe the new Conference model and Trade Show enhancements are very valuable new benefits to our members. They were designed to help all attendees and exhibitors take advantage of the many educational and networking opportunities without the burden of additional costs."
"Having unlimited access to valuable business education and networking opportunities will provide CHA members with the information and insights they need to successfully navigate challenges and grow their businesses during challenging economic times," according to Michael McCooey, CHA Board Chair.
Attendees will have a lot to look forward to at the 2011 CHA Conference and Trade Show. The new model should help people manage time and really get the full experience of the show. The show is scheduled to run from January 29 to February 1, 2011 at the Los Angeles Convention Center in Los Angeles, California.
*Rentacomputer.com is not affiliated with nor in any way authorized by the Crafts & Hobby Association Conference & Trade Show 2011 or the Los Angeles Convention Center. Rentacomputer.com is an independent nationwide technology rental provider, and this page in no way implies exclusivity of our services at the Crafts & Hobby Association Conference & Trade Show 2011 or the Los Angeles Convention Center.