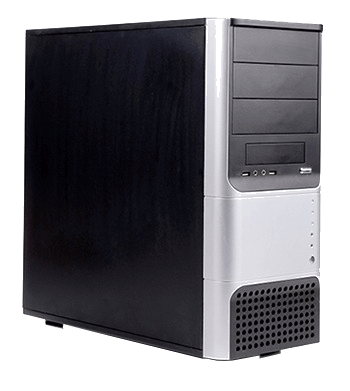 The most frequently asked question in the world of computer rentals is undoubtedly "How much does it cost to rent a computer?" Well, the answer isn't as simple as many people may think because the cost of your rental depends on four distinct variables: time, space, spec and availability. Computer rental prices vary depending on the length of your rental period, where you need the rental, the specification of the rental and the availability of the rental.
With Rentacomputer.com, your computer rental rates vary depending on how long you want the rental, whether it be monthly, weekly or daily. Typically, a Pentium 4 desktop computer will start at approximately $99 per week in most markets for a weekly rental. However, based upon the computer specification, availability, and location, prices can be 20% to 40% higher or lower.
Delivery locations could have an impact on cost as well. Getting a delivery to a convention center is naturally going to be more expensive than delivering to a business address. Why is this, you may ask? Well, business addresses normally have specific parking areas for delivery trucks as well as easy access to the delivery or installation room. Convention centers, on the other hand, require a lot of hard work and effort from the rental company and the company receiving the equipment. Making a delivery to a convention center usually takes a lot longer for the delivery person than it would at a business.
We all know that when we go into a store to buy a computer, not all the prices are the same, they vary depending on a lot of factors. The same goes for computer rentals. Most computer rentals consist of an Intel Pentium 4 computer running Windows XP, Windows Vista, Windows 7 or Apple Mac OSX. Standard RAM is generally 2GB with a 6GB or larger hard drive. Higher specifications than that, like a higher graphics card, cost more to rent.
One issue that comes into effect when it comes to computer rentals is the issue of supply and demand. The number of competitors in a given market area as well as total computer rental units can have a huge effect on the supply of a computer rental. The best way to get a computer rental is to have a Tech Travel Agent book your technology rental needs. That way you will have a guarantee that you will always get the equipment you need. By using a Tech Travel Agent, you don't have to rely solely on a single vendor because Tech Travel Agents can get equipment from any retailer in the United States, Canada, and Europe.
If your company generally employs temporary employees, then a computer rental is perfect. Why buy a computer for somebody who isn't going to be working for you long term? A computer rental is also perfect if your company tends to go to different trade shows or conferences. Companies that do this realize that lower costs and no maintenance are a great way to save some money.
Overall, a computer rental is a great way to get high-quality computers without having to make a permanent purchase. If you have any questions on computer rental pricing then visit Rentacomputer.com today.
There are a lot of benefits to using an All-in-One PC. All-in-One PCs don't require any additional equipment due to the fact that everything you need is bundled into one single device. Thanks to new trends in technology, screens have become smaller and thinner. CRT monitors are no longer in use, allowing computer companies to take components that go into a traditional tower and put them into an All-in-One device.
In these setups everything that you find in a traditional computer, including the motherboard, RAM, graphics card, processor, speakers and anything else, is housed behind an LCD panel. This gives you a sleek and stylish design as well as less clutter at your desk or wherever you will be using your computer.
Like All-in-One computers, laptops also do not require separate equipment. Laptops are essentially All-in-One PCs, though they offer less power and performance but more portability. If you don't want to hassle with extra equipment but you're also looking for a lightweight, compact and portable computer then a laptop may be a better choice than an All-in-One.
But if you need the perfect balance of portability and power, nothing beats an All-in-One PC. For times when you need an All-in-One PC but can't justify the purchase of one (or can't afford to purchase one) then renting an All-in-One PC from Rentacomputer.com is the next best thing.
Rentacomputer.com has been in the computer and technology rental industry for over 25 years and specializes in getting you the exact technology you need, when and where you need it and at an affordable price. All-in-One PC rentals allow you to have access to all the latest All-in-One PC technologies without having to fork out big bucks to do so.
If you are traveling to a convention center, conference, trade show or business meeting and you think that having
an All-in-One PC would be the perfect accent to whatever
it is you are doing, then consider going with an All-in-One PC rental from Rentacomputer.com.
Have you ever wanted to know how much information is processed a year by all the computer servers in the world combined? Yeah, me neither, but apparently a few people did. That is why three scientists from UC San Diego have literally estimated the annual amount of business related information processed by the world's computer servers.
According to the scientists, the amount of processed information is equivalent to a 5.6-billion-mile-high stack of books that stretched from the Earth to Neptune and back, repeated about 20 times of course.
That's right, the roughly 27 million computer servers in the world processed 9.57 zettabytes of information in 2008 according to a paper presented at Storage Networking World's (SNWs) annual meeting in California. This estimate, which is the first of its kind, was generated with server-processing performance standards, server industry reports, interviews with information technology experts, sales figures from server manufacturers and a few other sources.
If you were like me and wondering what in the world a zettabyte is, then here is your answer. A zettabyte is 10 to the 21st power, or a million million gigabytes. The study estimated that server workloads are doubling about every two years , which means that by the year 2024  the world's enterprise servers will annually process the digital equivalent of a stack of books extending more than 4.37 light-years to Alpha Centauri, which is our closest neighboring star system in the Milky Way Galaxy.
That is a lot of information, and these scientists definitely had a lot of spare time on their hands in order to calculate something as monumental as this. Kudos to them because there is no way I would have the patience to calculate something like that.
Source: MBPE Capital - The worlds roughly 27 million computer servers processed 9.57 zettabytes of information in 2008
Leasing a computer or audio-visual equipment is a great idea but why?  Here are seven more reasons why you should consider leasing instead of buying.
1. Preserve Your Credit Lines: Leasing helps you eliminate the hassle and worry opening a new line of credit.  Instead of relying on credit to make a purchase, you can lease and pay only for what you use.  Also, companies who lease tend to me more flexible than those who offer you credit.
2.  Advantages in Technology: When you buy technology, you're stuck with it.  Just because a new technology becomes available, doesn't mean you can run back to the store for an update.  When you lease, you'll always have the latest, state-of-the art equipment such as laptops, desktops, copiers, flat screens displays, file servers, projectors, software and more,  depending on what fits your needs.  Also, companies such as Rentacomputer.com have Tech Travel Agents who are experienced with the equipment they are leasing and who can handle everything from delivery to set-up and maintenance. 
3.  Little or No Down Payment: Most of the time, when leasing equipment, a down payment is not required.
4.  Preserve Your Capital Budget:  Due to the lack of initial capital expenditure, your working capital will not suffer.  Also, your lease payments will be less than they would have been had you purchased.  
5.  Potential Tax Savings:  Computer leasing may even lead to tax deductions.  To see if your company qualifies, check with your accountant. 
6.  Financial Options: Leasing equipment presents you with a number of options.  These include lease purchases, fair market value buy-outs, and structured payments designed specifically for your company.  
7.  Flexible Terms:  Leasing is great for when you need equipment for a longer period of time.  Whether it's one year or five years, terms are flexible and will fit whatever needs your company has.