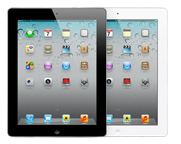 If you have been using laptops and desktop computers to survey, take that survey on the road with an iPad.
You can rent from 1 to 1000 iPads for as short a time frame as a day or two. They're perfect for surveys says Darcy Mann of Rentacomputer.com. "More people are moving to the iPad to do surveys. Since the day the first iPad was available for sale, we were renting them and surveys are currently the #1 reason they want to rent an iPad."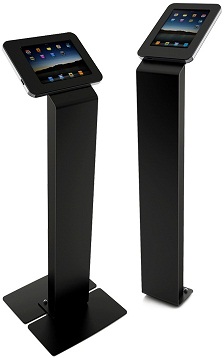 Renting hundreds of iPads in hundreds of cities can give you the most accurate and up to date survey results. In fact, results can be polled in real time with apps such as QuickTapSurvey and iSurvey.
Survey apps are a professional market research tool for face to face surveys and kiosk data collection. Apple iPads and iPad kiosks are available to rent from Rentacomputer.com
Conduct surveys, gather survey results and have the results uploaded to corporate for computer analysis. With iSurvey you don't need an Internet connection while conducting the surveys in the field. Offline results will be stored on the portable device and can be uploaded when an Internet connection becomes available.
If you need an internet connection, Rentacomputer.com can rent that along with the iPads. All models of iPads are available. The most popular unit rented right now is the iPad 2.
With simple touchscreen interfaces, iPads are perfect kiosks. Instead of opting for a computer-based kiosk, try an iPad Kiosk Rental from Rentacomputer.com. iPad kiosks are more affordable than computer-based kiosks and are also much easier to set up. In addition to that, iPad kiosks are sleek and non-intrusive thanks to their small size. And, since iPads have built-in mics, cameras, keyboards, speakers and touch screens, they eliminate the need for standard kiosks unless you require more significant performance.
In addition to iPad kiosks, you can get iPad Kiosk Enclosures. iPad kiosk enclosures securely encase your iPad to enable public use of the iPad without fear of theft or damage. Most cases are made of metal alloy and require a key to open. Rentacomputer.com can also acquire kiosk enclosures, kiosk stands, wall mounts, table mounts and more, depending on your needs.
There are many reasons as to why you may want an iPad kiosk as well. Kiosks are perfect for trade shows and conferences where there is a definite need for self-service technology. iPad kiosks can also be effectively used for signage, surveys, advertising, information collection, automated registration, ticket sales, maps/directories, welcome stations, promotional information and video or whatever else you may want them for.
iPad Kiosks are definitely more convenient and have more uses than standard kiosks but lack the performance power at the same time. However, there really isn't a long-term need for an iPad Kiosk, which is why an iPad Kiosk Rental from Rentacomputer.com is the perfect solution.
Whenever you need an iPad kiosk, all you have to do is to go to Rentacomputer.com, tell a Tech Travel Agent how many iPad Kiosks you need and where you need them delivered, and that's it, Rentacomputer.com will handle the rest. By going with a company that has been in the technology rental industry for over 25 years, you know that Rentacomputer.com is a company you can count on.